Not everyone will see your one post or your one email so the more you talk about it and the more often, the better!
How to nail your Christmas marketing
As it's such a busy time for you, it's better to be prepared on your social media. This way once the quieter January arrives, you won't be too quiet as you've stayed consistent on your socials throughout December!
But where do you start?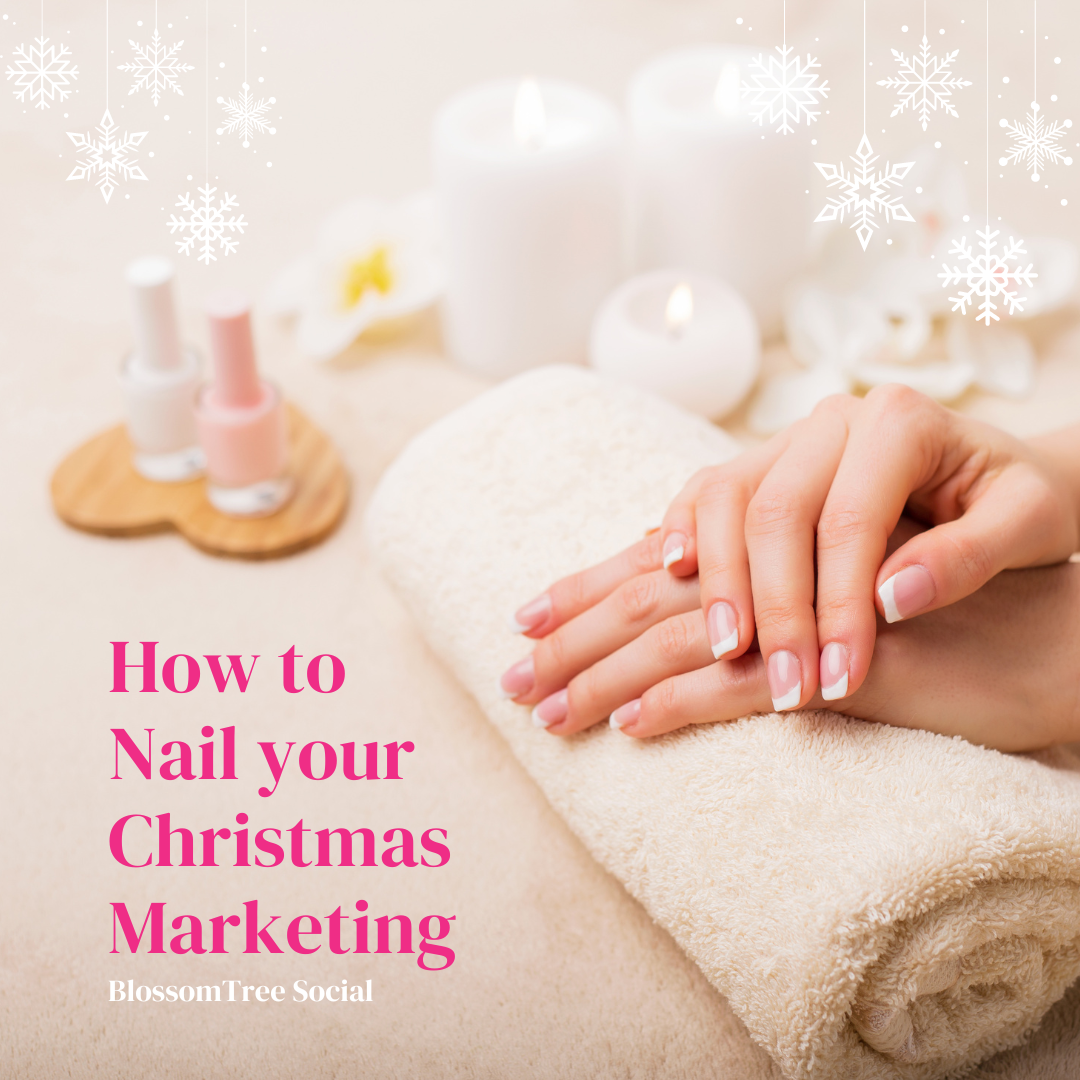 I would start with a...
Brainstorming session
Write down ideas that come to mind, talk with your colleagues to try think of some content ideas. Think about what ways you can help your audience, showcase you and your business. You need content that will inspire and excite your audience to book or buy from you. List a few different topics that you can talk about in your content.
Make a plan
Decide how much content you can create each week. You don't need to post everyday, it's much better to create 2-3 posts per week that adds value to your audience. Remember to mix up your posts; have some promotional, some about you or even a simple question is great for engagement. Refer back to your brainstorming notes for help or check out my free content kit for some inspiration.
Start creating
Try not to overthink this part. Be yourself and don't be afraid to get out of your comfort zone, a little. Your audience is more likely to book in with you if they know, like and trust you. Canva is amazing for creating content and it's free!
Schedule
Make some time each week to schedule posts out for the following week. If you have time, go all out and schedule all of December's content. The more you can do the better. Just remember to make a note of when your post is scheduled for, as engaging with others around that time can help with your engagement. It's no good posting then not going on your socials at all. It is called social media, don't forget to be social and make connections.
I am currently working on a short course coming soon so make sure you follow me on Instagram for updates @blossomtreesocial
Just in case you haven't got your content planned yet and are having a mad panic on what to post, here are a few Christmas ideas to help you:
🎄 Do a Reel to show your Christmas decorations to get everyone in the festive mood. Or behind the scenes when you're putting them up!
❄️Try a fun Christmas THIS or THAT poll on your stories
☃ Support other local businesses by giving them a shout out and this also helps give your audience present ideas.
🎁 Promote your seasonal products, stocking fillers and gift vouchers with an online event or go Live (remember to promote the Live/event first so more show up)
🎄 Ask a Christmas question. I simple question can do great for your engagement and to make better connections, depending on the question it can even help you get to know your audience a bit better too!
⁠
Spread the word, don't forget to:
· email your customers
· write a blog
· create a post
· share to stories
· tell all your clients
· add all to your website
Not everyone will see your one post or your one email so the more you talk about it and the more often, the better! If you need any help, get in touch.
Instagram @blossomtreesocial
---
Blossom Tree Social